Welcome to our site.
Our ambition is to provide support and guidance to each patient from the initial contact to the concluding follow up visit. At Cosmedic Lazer MedSpa our key concern is your well-being and comfort. We consider it our privilege to work with you and your concerns. We believe in educating our patients and giving the highest level of quality and safe services. Our staff is committed to creating an environment dedicated to forming ongoing relationships, supporting uncompromised customer service, and providing unsurpassed service reliability. Our priority and goal is that each patient feels their procedure has improved them, not only physically, but also emotionally. We feel this provides our patients with a confidence in their appearance that then extends to all other aspects of their life. Looking your best at every age will not only make you look your best, but will also make you feel your best.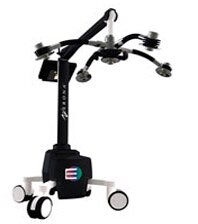 ZERONA® The first non-invasive body contouring procedure to effectively remove excess fat.

Unlike invasive weight loss surgery, FDA Approved, ZERONA® is applied externally. This revolutionary method provides results without the dangers associated with surgery, while at the same time allowing patients to remain active during treatment. The ZERONA® protocol utilizes Erchonia®'s patented and clinically proven low-level laser technology. Read about the ZERONA treatment.
Laser Hair Removal/Skin Rejuvenation

GentleLase Pro is the next step in laser-based hair removal and skin care. Using an invisible beam of light, GentleLase Pro penetrates the hair follicle, destroying it at its root while preserving the surrounding skin. GentleLase Pro is also the laser of choice for precise, noninvasive treatment of cosmetic skin conditions such as vascular and pigmented lesions and wrinkles.

Experience: Smoother skin, free of unwanted hair
Freedom from sun-damaged skin, age spots, freckles, hemangiomas, leg and facial veins
A reduction in wrinkles.

GentleLASE PRO represents the re-imagination of the aesthetic industry's premier laser for removing hair, epidermal pigmented lesions and wrinkle reduction. It's faster and loaded with advanced features that continue to deliver superior results. And only Candela lasers feature the Dynamic Cooling Device (DCD™) to maximize patient safety and comfort.
Before & after photos

Financing available with CareCredit Application
Fast, easy and secure!
Find out instantly if you are approved and start using your account immediately — even before your card arrives!
Zerona testimonials
I would like to describe my experience with the Zerona Laser. First of all, the staff is top notch! They are always friendly, they know me by name when I come in and I am always greeted with a smile. They have been a very positive part of my Zerona experience...Read more
Find us on Facebook!

Before and after pictures.


GentleLASE Procedure Video